Talent Management: Building a More Prepared Workforce With a Complete Approach to Learning
This eBook walks you through modern learning and how to stay on top of it to create a more prepared workforce.
The Rise of Digital Labor: Supporting Positive Customer Experiences in 2020
This guide will help customer service and support leaders prepare for the rise of digital labor and support personalized and consistent customer experiences.
Voice Analytics: An Emerging Trend in Security
This guide will introduce you to voice analytics and why it offers a more secure way to authenticate your enterprise's users, partners, and customers.
The Sales Leader's Guide To 3 Key Sales Technology Categories
This guide overviews three major sales technology categories, identified by Aragon, that will help sales teams transform their approach and win deals.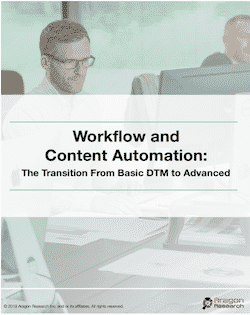 Workflow and Content Automation: The Transition From Basic DTM to Advanced
This eBook will delve into the evolution of basic digital transaction management to advanced and show you how WCA can transform your business processes.
Your Guide to Conversational AI: Improving Customer Experience
This eBook explains how to best implement conversational AI capabilities into your business processes to improve customer experience.
Enterprise Architecture: How To Ensure Your Business Strategy Will Deliver
This eBook explains the concept of enterprise architecture and key components to manage and execute the practice successfully.
Your Guide to Modern Communications and Collaboration
This eBook will delve into the modern UCC platform, how it is making people a priority, and the key components of people-centric collaboration.
The Secret to Competitive Content: Intelligent Content Analytics
This eBook explains the need for new ways to put content to work and how the insights from ICA allow enterprises to act faster and improve processes.
Upgrade Your Sales Strategy with Sales Engagement
This eBook will walk readers through key trends driving the rise of sales engagement platforms and the major ways that SEPs can streamline and enhance the sales process.
10 Ways Enterprise Content Management Is Changing
This eBook explains how content management technologies are changing and the capabilities you should be considering when evaluating content management vendors.
Achieve Faster Business Outcomes with Digital Transaction Management
This eBook covers the ins and outs of the maturing digital transaction management market and guides enterprises on where they should start with their digital transformation efforts.
Your Guide to Crafting Your Artificial Intelligence Strategy
This eBook covers the core concepts that define artificial intelligence and discusses the state of AI today and how you can begin building your intelligent enterprise.
A Culture of Collaboration Starts With The Top
This eBook will outline 8 factors that could lead to suboptimal engagement in your organization and help you determine a plan for improvement.