5 Things CIOs/CTOs Should Consider When Building a Cloud Environment
Download this free ebook to learn about your cloud environment
Securing Digital Transactions in 2021.
Learn about DTM trends that will help you secure your digital transactions.
10 best practices for the hybrid work model.
Learn how to best manage your hybrid workforce as digital labor capabilities expand.
Maximize Revenue Impact with Intelligent Marketing
As the race to gain customer insights continues to develop, the need to have intelligence about customer behaviors is paramount.
Evaluating & Demonstrating IT Investment Performance
As a CIO, you need to define a set of metrics that can be used to evaluate and demonstrate the value of your investments to your leadership team.
Business Reimagination During COVID-19
COVID-19 recovery remains uncertain, and CIOs must realize that the 'normal' state of business is part of a bygone era.
[Playbook for CEOs] Business Reimagination During COVID-19
Learn how to drive a culture shift and lead your business in the right direction by downloading your free playbook.
Digital Transformation in Higher Education
This eBook will explain why campuses are being forced to re-examine their protocols, policies, and technologies.
7 Trends in Sales Enablement
This eBook will provide key definitions and walk you through 7 trends in sales enablement to pay attention to.
How to Prepare for a Digital Labor Workforce
This eBook will walk you through digital labor and prepare you for managing the workforce of the future.
The Future of Work Begins With A Digital Work Hub
This eBook provides an overview of the digital work hubs market, and why your global enterprise should adopt a digital work hub approach.
Aragon's Top 10 Predictions: Strategically Preparing for 2020
This eBook provides an overview of Aragon's top ten predictions for 2020 and beyond, and tips on how to prepare for them.
How to Plan for a Digital Ethicist
This eBook explains the need for enterprises to need to employ or retain the services of a digital ethicist to help them weigh the morality of decisions as well as the costs and benefits.
Reinvent Your Approach to Global Mobility Management
This eBook helps you understand global mobility management—what it is, the trends driving it, and why your global organization should be deploying it.
Talent Management: Building a More Prepared Workforce With a Complete Approach to Learning
This eBook walks you through modern learning and how to stay on top of it to create a more prepared workforce.
The Rise of Digital Labor: Supporting Positive Customer Experiences in 2020
This guide will help customer service and support leaders prepare for the rise of digital labor and support personalized and consistent customer experiences.
A Culture of Collaboration Starts With The Top
This eBook will outline 8 factors that could lead to suboptimal engagement in your organization and help you determine a plan for improvement.
Voice Analytics: An Emerging Trend in Security
This guide will introduce you to voice analytics and why it offers a more secure way to authenticate your enterprise's users, partners, and customers.
The Sales Leader's Guide To 3 Key Sales Technology Categories
This guide overviews three major sales technology categories, identified by Aragon, that will help sales teams transform their approach and win deals.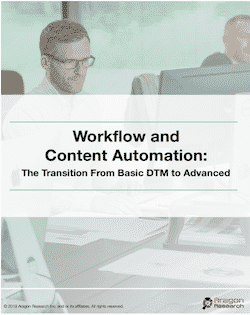 Workflow and Content Automation: The Transition From Basic DTM to Advanced
This eBook will delve into the evolution of basic digital transaction management to advanced and show you how WCA can transform your business processes.
Your Guide to Conversational AI: Improving Customer Experience
This eBook explains how to best implement conversational AI capabilities into your business processes to improve customer experience.
Enterprise Architecture: How To Ensure Your Business Strategy Will Deliver
This eBook explains the concept of enterprise architecture and key components to manage and execute the practice successfully.
Your Guide to Modern Communications and Collaboration
This eBook will delve into the modern UCC platform, how it is making people a priority, and the key components of people-centric collaboration.
The Secret to Competitive Content: Intelligent Content Analytics
This eBook explains the need for new ways to put content to work and how the insights from ICA allow enterprises to act faster and improve processes.
Upgrade Your Sales Strategy with Sales Engagement
This eBook will walk readers through key trends driving the rise of sales engagement platforms and the major ways that SEPs can streamline and enhance the sales process.
10 Ways Enterprise Content Management Is Changing
This eBook explains how content management technologies are changing and the capabilities you should be considering when evaluating content management vendors.
Achieve Faster Business Outcomes with Digital Transaction Management
This eBook covers the ins and outs of the maturing digital transaction management market and guides enterprises on where they should start with their digital transformation efforts.
Your Guide to Crafting Your Artificial Intelligence Strategy
This eBook covers the core concepts that define artificial intelligence and discusses the state of AI today and how you can begin building your intelligent enterprise.
Back To Work Checklist
Start with this free checklist to help you prepare to tackle the new workplace–whether that be a physical or virtual one.
Top 10 Technology Trends That Are Changing In 2021
This guide reviews the top 10 technology trends and categories that are emerging and enabling us to maintain business continuity.
Leverage Research To Get Executive Buy-In
This guide will walk you through presenting key insights to your executive team to get their buy-in when it comes to enacting positive change in your business.
Criteria to Choose Your Research & Advisory Firm
This checklist will help you discover the qualities to look for in a Research & Advisory firm.
Virtual Event Best Practices Checklist
This checklist will help you prepare for a successful, engaging virtual event.
Interactive Checklist for Remote SDRs
This assessment will help SDRs and their managers determine the gaps in their strategy.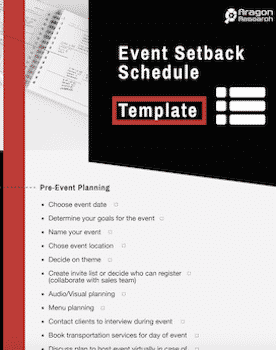 Event Setback Schedule Template
Whether you are planning an event from scratch or re-planning a postponed event, this complimentary Event Setback Schedule Template is a great place to start.
Employee Engagement Checklist
This free checklist outlines key aspects of employee engagement in nine categories.
Enterprise Security Checklist
Our Enterprise Security Checklist provides you with aspects of security you must plan for in order to have a safe, well-functioning, and protected enterprise.