Aragon Research began recognizing leading women technology professionals in 2017 with its annual Women in Technology awards. This award reflects the achievements of women who have demonstrated outstanding personal and professional growth and significantly contributed to the technology industry.
Our 2023 WIT nominations are now CLOSED!
Nominations are due by 11:59 PM on Friday, March 31, 2023.
Women in Technology Selection Criteria
The recipients of the Women in Technology award fulfill the following criteria: 
Role Model
Exemplifies the role they are in and takes it to the next level.
Contributor to the Business
Contributes to the growth and strategic direction of their organization.
Innovator
Drives innovation to inspire others and outperform the market.
Gives Back
Invests time in giving back to the community, a cause important to them, and/or mentoring young professionals.
Nomination Categories
The Women in Technology categories for 2023 are: 
Analyst Relations
CEO
CIO and/or CISO
COO/Operations (c level title not required)
Chief People Officer/HR Leader
Head of Engineering
Legal
Marketing
Product
Public Relations
Sales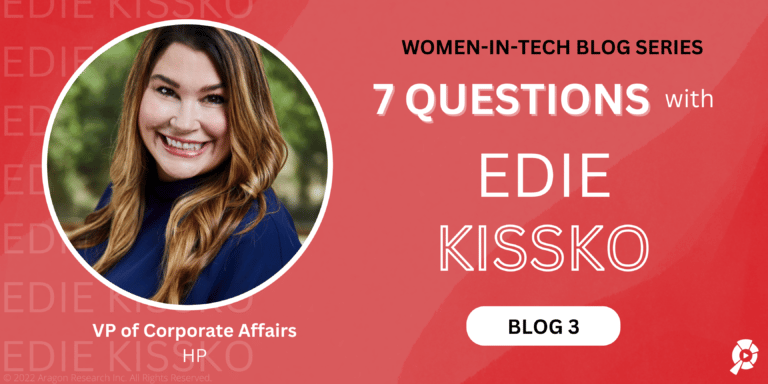 7 Questions With HP's Edie Kissko
The third installment features Edith "Edie" Kissko, VP of Corporate Affairs at HP.
Edie won the Aragon Research 2021 WIT award for Public Relations.


7 Questions With MHC Automation's Gina Armada
The second installment features Gina Armada, Chief Executive Officer of MHC Automation.
Gina won the Aragon Research 2021 WIT award for CEO.


7 Questions With RingCentral's Jennifer Caukin
The first installment features Jennifer Caukin, VP of Global Communications at RingCentral.
Jennifer won the Aragon Research 2021 WIT award for Analyst Relations.
Katie Atwell Mrizek, Analyst Relations, Poly
Rose Bentley, CEO, Qumu
Jayne McLintock, CISO, Poly
Aparna Bawa, COO, Zoom
Dayna Perry, Chief People Officer, Conga
Shenia Kirkland, Legal, Vonage
Genefa Murphy, Marketing, Five9
Karen Hardy, Product
Omgita Awasthi, Public Relations, Whatfix
Cathie Brunnick, Sales, Invoca