The Aragon Research Globe™ for Enterprise Coaching, 2024
Putting Conversational Intelligence to Work
Summary
The enterprise coaching market has quietly emerged as the need to automate the process of live and post interaction coaching is now being automated. Enterprise Coaching the most popular in Sales and Contact Centers but it is not limited to those roles.
In our first Enterprise Coaching Globe, we evaluate 15 providers.
Introduction
Coaching is a frontline application and management best practice. In previous reports, Aragon had focused on coaching and learning for sales, but what we have seen change in the market is the overall surge in demand for coaching overall for many frontline worker positions, including sales and contact center.
Technology such as conversational intelligence is helping to empower this growth and demand for coaching. While human managers still need to coach, what we see is the rise of this form of automated coaching application, which is technology-based and is getting smarter all the time. This report evaluates 15 vendors who are making a difference in the coaching market.
Research Note Details
Topic: Coaching
Issue: Who are the vendors making a difference in providing coaching applications?
Research Note Number: 2023-38
Length: 29 pages
File Size: 2.5 MB
File Type: Portable Document Format (PDF)
Language: English
Publisher: Aragon Research
Author:
Jim Lundy, CEO and Lead Analyst
Access Free Research In Our Guest Network
The Aragon Research Globe™ for Digital Work Hubs, 2021
The Aragon Research Technology Arc™ for Artificial Intelligence, 2020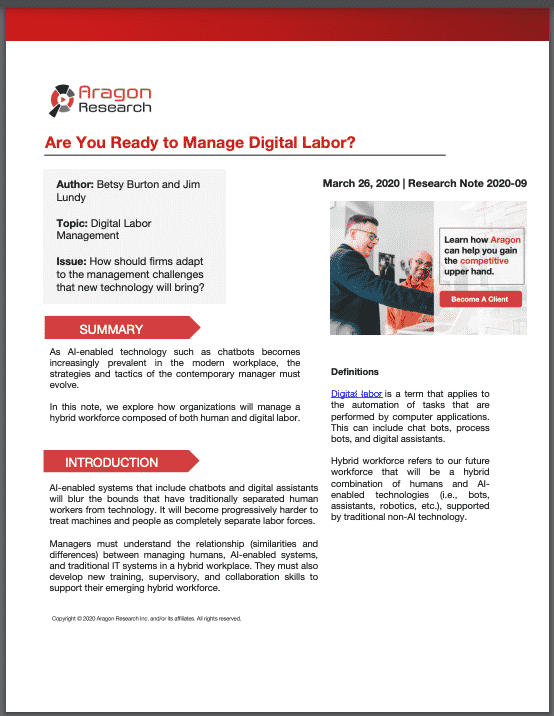 Are You Ready to Manage Digital Labor?