The Aragon Research Technology Arc™ for Blockchain, 2023
Summary
Aragon Research introduces its 2023 Technology Arc™ for blockchain. Enterprise blockchain, with its inherent privacy and security features, is well positioned for increasing adoption within the enterprise.
This edition features 22 technology and market profiles that are split between the emerging, adopting, and mature arcs.
Introduction
Blockchains have gone from a relatively niche emerging technology to a well-known term as a result of the rise of cryptocurrency.
However, they are not inherently linked to cryptocurrencies, and the technology possesses wider applications beyond its well-publicized use in financial markets.
Despite a rocky year for crypto markets, providers continue to pursue blockchain-based innovations that have that potential to change the way organizations transact and handle fundamental security concerns.
Research Note Details
Topic: Blockchain
Issue: What are the macrotrends impacting the adoption of blockchain?
Research Note Number: 2023-08
Length: 20 pages
File Size: 0.9 MB
File Type: Portable Document Format (PDF)
Language: English
Publisher: Aragon Research
Author:
Adam Pease, Associate Analyst & Editor
Access Free Research In Our Guest Network
The Aragon Research Globe™ for Digital Work Hubs, 2021
The Aragon Research Technology Arc™ for Artificial Intelligence, 2020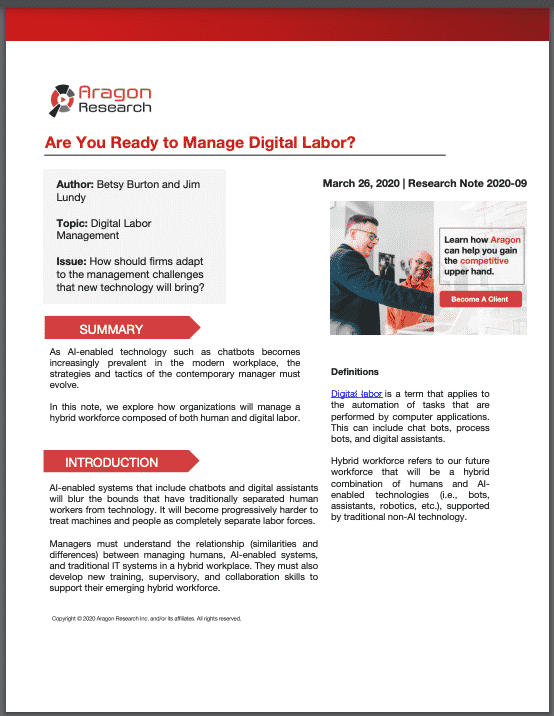 Are You Ready to Manage Digital Labor?