Becoming a Net-Zero Carbon Business: 3 Short-Term and Long-Term Strategies
Work towards sustainable business practices
Summary
The shift to sustainable and net-zero carbon business has become increasingly inevitable. Enterprises will soon be, if not already, demarcated not by whether or not they have committed to net-zero pledges, but by the ambition and timescale of the expected pledges. Enterprises must formulate what their sustainability goals are and how they will achieve them if they do not want to be left behind.
Introduction
New strategies and trends in sustainability are emerging to complement preexisting ones, which are also seeing a rise in popularity. Enterprises must capitalize on these opportunities by determining which strategies are the right fit for their specific situations. As the world shifts to carbon-neutral energy, industry, and everything else, enterprises that stay ahead of the curve will benefit materially from new and more efficient technology and business practices—to say nothing of the benefit in branding and the benefit to the world as a whole if significant climate change is more strongly mitigated. This Research Note details three short-term and three long-term approaches to sustainability for enterprises.
Research Note Details
Topic: Sustainability
Issue: How should enterprises plan to become net-zero carbon businesses?
Research Note Number: 2021-12
Length: 9 pages
File Size: 1 MB
File Type: Portable Document Format (PDF)
Language: English
Publisher: Aragon Research
Authors:
Matt Lundy, Analyst at Aragon Research
Access Free Research In Our Guest Network
The Aragon Research Globe™ for Digital Work Hubs, 2021
The Aragon Research Technology Arc™ for Artificial Intelligence, 2020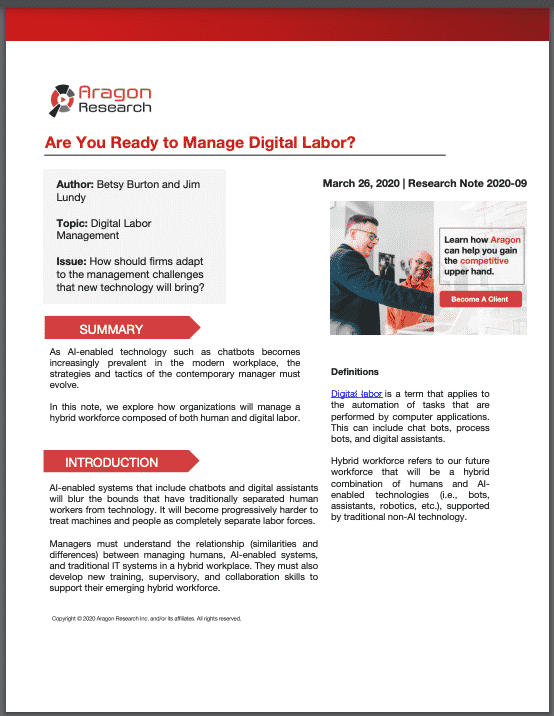 Are You Ready to Manage Digital Labor?