General-Purpose AI Models and Copilot Solutions
Understanding the difference between general-purpose and application-specific AI.
Summary
We clarify the differences between general-purpose AI models ChatGPT and copilot solutions that are specific to different use cases, offering advice to enterprises on how they can take advantage of emerging generative AI.
Introduction
The Internet has been buzzing with AI news since the release of ChatGPT, and many new AI model providers are popping up to take advantage of the hype. Business leaders must understand the differences between ChatGPT and other large language models, and the more tailored solutions that Aragon is calling 'copilots' that are produced using the these new AI models.
This Research Note reviews the key facts business leaders should understand about the differences between large language models like ChatGPT and more domain-specific copilot solutions. It also reviews the use cases where generative AI will make the biggest impact in the near future and provides advice to organizations about how these emerging AI tools can be leveraged for the enterprise.
Research Note Details
Topic: Generative AI
Issue: What are the main differences between ChatGPT and copilot solutions?
Research Note Number: 2023-25
Length: 6 pages
File Size: 0.3 MB
File Type: Portable Document Format (PDF)
Language: English
Publisher: Aragon Research
Author:
Adam Pease, Analyst and Editor
Access Free Research In Our Guest Network
The Aragon Research Globe™ for Digital Work Hubs, 2021
The Aragon Research Technology Arc™ for Artificial Intelligence, 2020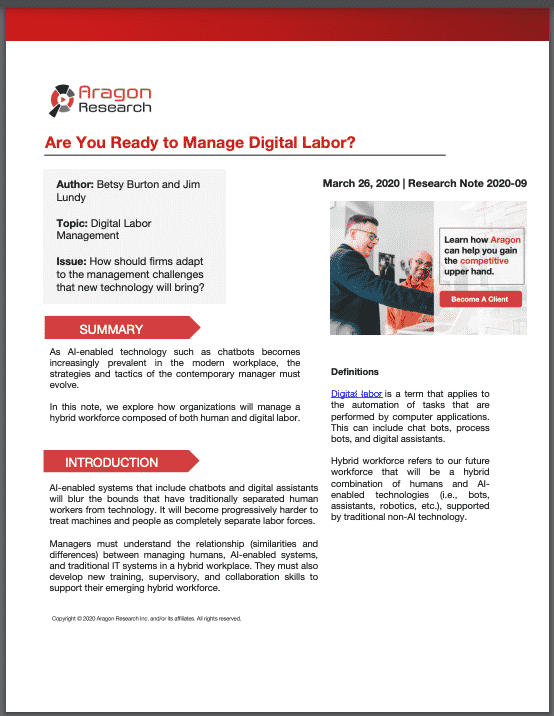 Are You Ready to Manage Digital Labor?