Hot Vendors in Digital Transaction Management, 2023
How can organizes digitize and automate their document processes?
Summary
Digital transaction management (DTM) enables enterprises to transform their legacy document processes and transform the customer experience. Aragon has identified two vendors in DTM that are making an impact in the market.
Introduction
While many organizations are now returning to the office or pursuing a hybrid workplace approach, the need for digital transformation has never been greater. More organizations are turning to DTM platforms to modernize their forms, documents, and signature processes. Digital transformation begins with providing a streamlined and intuitive customer journey that responds to the specific, contextual needs of each user.
Aragon has identified a series of trends in the overall DTM market—from low-code to generative AI—that are driving growth and shaping the landscape of provider offerings.
In this Research Note, we review these key market trends and then evaluate Hot Vendors in digital transaction management.
Research Note Details
Topic: Digital Transaction Management (DTM)
Issue: Who are the vendors in digital transaction management and how are they evolving?
Research Note Number: 2023-33
Length: 10 pages
File Size: 1.5 MB
File Type: Portable Document Format (PDF)
Language: English
Publisher: Aragon Research
Author:
Jim Lundy, CEO and Lead Analyst
Adam Pease, Analyst & Editor
Access Free Research In Our Guest Network
The Aragon Research Globe™ for Digital Work Hubs, 2021
The Aragon Research Technology Arc™ for Artificial Intelligence, 2020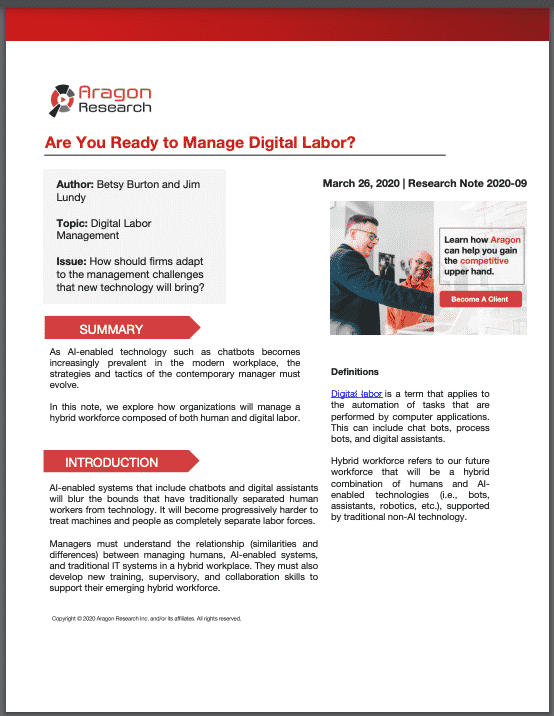 Are You Ready to Manage Digital Labor?