Hot Vendors in CoMarketing Clouds, 2023
How can organizes digitize and automate their document processes?
Summary
CoMarketing Clouds (CMCs) are an emerging technology category that leverages intelligence to support marketing operations. Aragon has identified 3 vendors in CMCs that are making an impact in the market.
Introduction
This year, Aragon Research identified a new category of enterprise technology known as CoMarketing Clouds—or CMCs. These emerging platforms support marketing departments by integrating data from a variety of channels and then leveraging artificial intelligence to automate core marketing operations that would have once required an entire team to manage.
Aragon has evaluated a variety of trends, including Generative AI, that are shaping the landscape of the marketing tech stack. In this Research Note, we review these key market trends and then evaluate several Hot Vendors in CMCs.
Research Note Details
Topic: CoMarketing Clouds (CMCs)
Issue: Who are the vendors in CoMarketing Clouds and how are they evolving?
Research Note Number: 2023-34
Length: 10 pages
File Size: 1.5 MB
File Type: Portable Document Format (PDF)
Language: English
Publisher: Aragon Research
Author:
Jim Lundy, CEO and Lead Analyst
Adam Pease, Analyst & Editor
Access Free Research In Our Guest Network
The Aragon Research Globe™ for Digital Work Hubs, 2021
The Aragon Research Technology Arc™ for Artificial Intelligence, 2020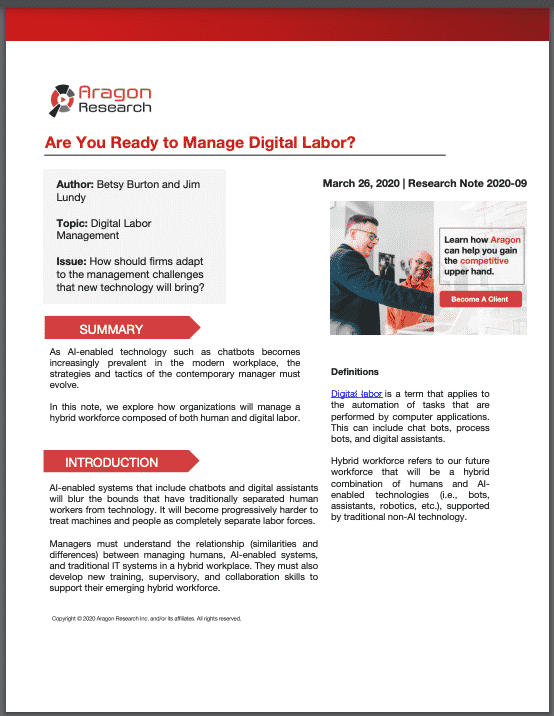 Are You Ready to Manage Digital Labor?