Hot Vendors in Computer Vision, 2021
Aragon has identified five vendors in computer vision that are making an impact in the computer vision market.
Summary
Computer vision enables the real-time recognition and analytics of video and images to drive business insights and growth. Aragon has identified 5 vendors in computer vision that are making a difference in the market.
Identified vendors: 
Arturo
Chooch
Lionbridge AI
Owl Autonomous Imaging
Scale AI
Introduction
Today's enterprises are turning to computer vision as a way to solve a variety of different problems across a variety of emerging industry verticals. While computer vision has historically been known for its applications in security, autonomous driving, and the like, it is finding new use cases across the enterprise.
At its core, computer vision is technology that uses artificial intelligence to intelligently recognize the content of an image or video. Computer vision involves the labeling, segmentation, recognition, and ordering of visual content for use in an application. The computer vision (CV) market encompasses both software and hardware. Some providers will offer a platform, or a specific set of algorithms and models, while other providers offer edge devices or other hardware such as security cameras or cameras that support autonomous vehicles.
In this Research Note, we outline trends that are defining the trajectory of the computer vision market, define some fundamental terms that help to understand the market, and profile five Hot Vendors whose products and services stand out in computer vision.
Research Note Details
Topic: Computer Vision
Issue: Who are the providers in the computer vision market who are making a difference?
Research Note Number: 2021-28
Length: 12 pages
File Size: 1.5 MB
File Type: Portable Document Format (PDF)
Language: English
Publisher: Aragon Research
Authors:
Adam Pease , Associate Analyst and Editor
Access Free Research In Our Guest Network
The Aragon Research Globe™ for Digital Work Hubs, 2021
The Aragon Research Technology Arc™ for Artificial Intelligence, 2020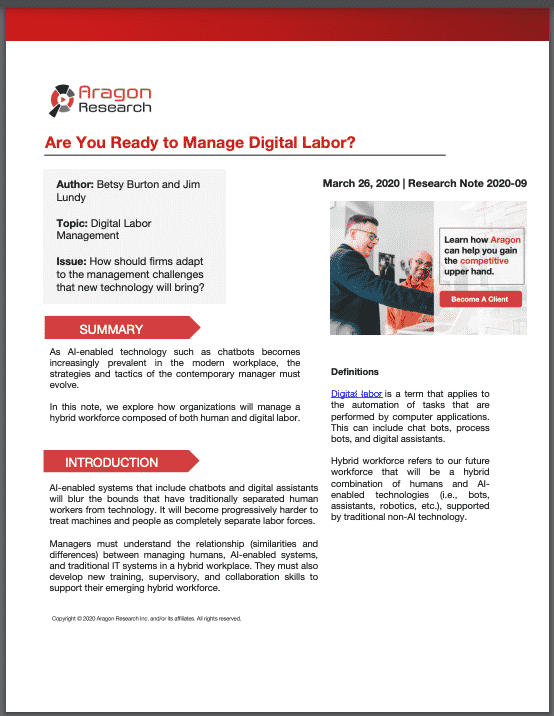 Are You Ready to Manage Digital Labor?