Three Questions and Answers About Computer Vision and Vehicle Security
We review three questions that surround the use of computer vision for security and crime prevention
Summary
Computer vision is proving to be a useful addition to the arsenals of security providers who target traffic and vehicles for surveillance. Equipped with autonomous recognition technology, new security systems can predict and prevent crime with a new degree of accuracy and speed. 
In this Research Note, we ask and answer three questions about this emerging technology area.
Introduction
Increasingly, computer vision systems are being adopted across the enterprise to automate and streamline legacy business processes. In a similar way, the public sector has begun to pilot the use of computer vision to modernize key services, such as law enforcement. In vehicular crimes, law enforcement has had to rely on vague and inconsistent data to identify and pursue suspects. As a result, many crimes that involve vehicles go unsolved, or completely unobserved. Computer vision has the potential to change this. 
Computer vision refers to the use of algorithms to understand, analyze, and reconstruct visual scenes from image or video data. Computer vision will also go beyond other modes of digital image processing to analyze the 3D structure of a scene by identifying edges and shapes. 
Most crimes involve vehicles in some way—cars may be the targets of crimes, they may be used to escape the site of a crime scene, or they may be the vector that law enforcement targets to identify and gather data about a suspect. Police benefit through the reliable, fast, and accurate mechanism of vehicle identification and tracking. In the past, law enforcement has had to rely on the manual review of security footage, highway patrols, or other kinds of personnel-based surveillance. Manpower constraints push many cases off the active list.
In this Research Note, we review three questions that surround the use of computer vision for security and crime prevention, focusing on the example of vehicle security and license plate reading.
Research Note Details
Topic: Computer Vision
Issue: What are the important questions to ask for understanding the role of computer vision in vehicle security today?
Research Note Number: 2021-55
Length: 6 pages
File Size: 1 MB
File Type: Portable Document Format (PDF)
Language: English
Publisher: Aragon Research
Authors:
Adam Pease, Associate Analyst and Editor
Access Free Research In Our Guest Network
The Aragon Research Globe™ for Digital Work Hubs, 2021
The Aragon Research Technology Arc™ for Artificial Intelligence, 2020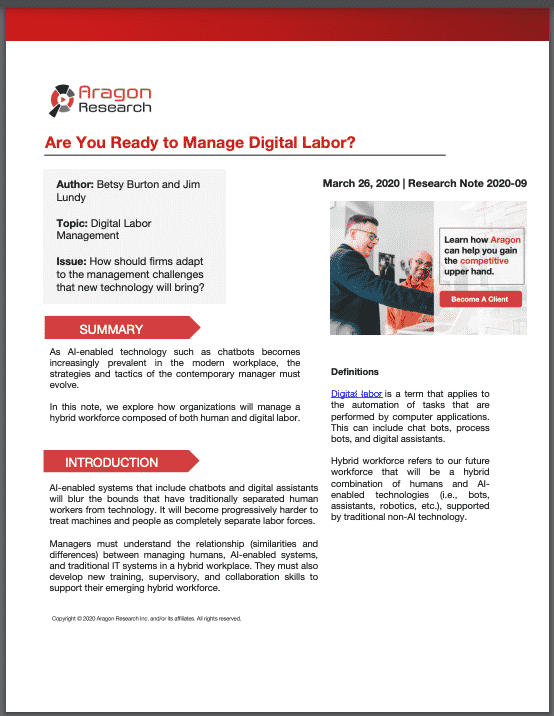 Are You Ready to Manage Digital Labor?