Special Report: Guiding Your Organization Through COVID-19
COVID-19 has forced enterprises to change the way work gets done and the way their workers are organized. But even after the pandemic has subsided, its effects will be felt long into the future as the world adapts to a new normal. Organizations who fail to plan for this new normal not only risk long-term growth, but the survival of their business.
The research in this special report will walk you through how to define your new business strategy, how to prepare for the after-effects of COVID-19, and the technologies that should be adopted to empower your workforce.
VP Research Betsy Burton shows you how to transform the way you conduct business to survive and thrive in a post COVID-19 era. Learn how to create your short- and long-term scenario, define your new business goals and strategy, analyze your business model and impact, define new target outcome metrics, and communicate the new vision to your executives, employees, customers, and partners.
The Aragon analyst team offers 5 key predictions to help your organization plan for a post-COVID-19 world. Use their recommendations to strategically guide your planning efforts.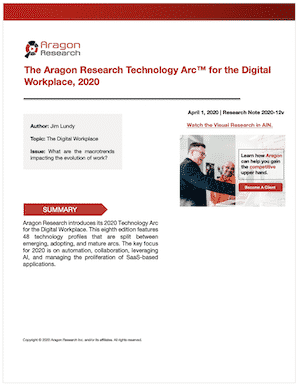 The need for robust collaboration and communication platforms to support remote work has seen a surge, and the demand will continue to grow as work becomes more and more virtually conducted. Use this Technology Arc to understand the emerging technologies that can give your enterprise a competitive advantage.
Employee engagement is more about the entire lifecycle of the employee and not just about the tools to track activity, the historic focus of many HR teams. As work becomes more virtual, nurturing employee engagement will become more critical. Use this Technology Arc to understand which emerging technologies will help you empower your workforce and keep your top talent engaged.