Sustainability in Cloud Providers
How should enterprises approach evaluating sustainability in cloud providers?
Summary
In this Research Note, we look at the sustainability and carbon footprint of leading cloud providers to help provide enterprises with the insight they need to make the server decisions that are right for their business.
Introduction
One of the most straightforward ways an enterprise can reduce its carbon footprint is to make use of cloud servers. Larger, centralized operations are often more efficient and, recently, have been prioritizing the lowering of carbon emissions. In determining which cloud provider is the right choice, an enterprise will consider numerous variables, including sustainability. Looking at the track records, future goals, and current actions that providers are taking in climate and sustainability can help an enterprise make the right choice.
Many major players in the cloud market are vying for the top spot of climate action. From earlier net-zero goals to larger purchases of Renewable Energy Certificates (RECs), the competition is fierce. In this Research Note, Aragon will help you learn about different providers and see where each stands in the world of sustainability.
Research Note Details
Topic: Sustainability
Issue: How should enterprises approach evaluating sustainability in cloud providers?
Research Note Number: 2021-46
Length: 8 pages
File Size:  1 MB
File Type: Portable Document Format (PDF)
Language: English
Publisher: Aragon Research
Authors:
Matt Lundy, Analyst at Aragon Research
Access Free Research In Our Guest Network
The Aragon Research Globe™ for Digital Work Hubs, 2021
The Aragon Research Technology Arc™ for Artificial Intelligence, 2020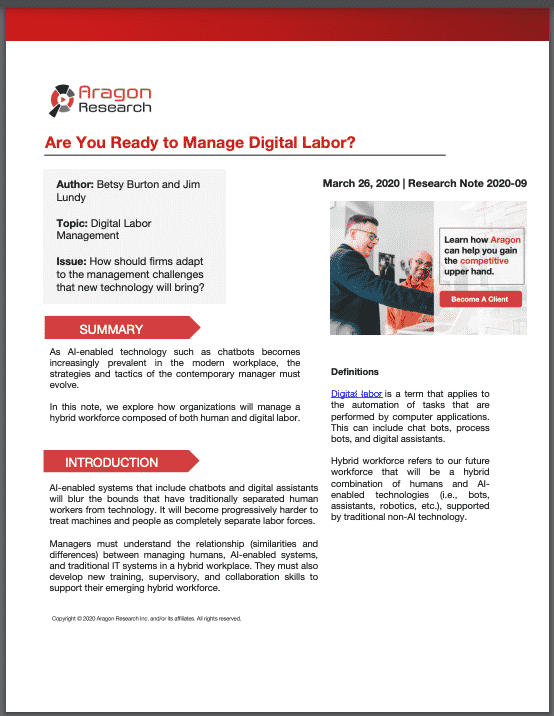 Are You Ready to Manage Digital Labor?