The Aragon Research Globe™ for Digital Transaction Management, 2021
Examine 21 major providers who are helping to digitize both customer and employee transactions
Summary
Aragon Research releases its fifth Aragon Research Globe™ for Digital Transaction Management (DTM), a market that has enabled paperless transactions during the COVID era. The DTM Globe examines 21 major providers who are helping to digitize both customer and employee transactions.
Identified Providers:
Adobe
airSlate
AssureSign
Citrix
Conga
DocuSign
eOriginal
HelloSign
InfoCert
Mitratech
Namirial
Nintex
OneSpan
PactSafe
PandaDoc
Sertifi
SignEasy
Smart Communications
Topaz
Wacom
ZorroSign
Introduction
COVID produced significant pressure on enterprises to accelerate their digital transformation plans. Further, the pandemic has created a situation in which paper can no longer be relied upon as a safe medium. The combination of the need to be fully digital and the need to eliminate paper has put digital transaction management at the top of best practices for remote work. It simply helps people get work done faster and conclude agreements quicker.
While DTM providers saw significant revenue growth in 2020 due to COVID, paper processes are still a significant part of daily business. Even this year, as the DTM market continued to expand, paper processes are still being migrated to basic DTM (eSignature). Enterprises that have shifted away from paper have gained an advantage, and for the rest, there is still a race to digitize during the current remote work era. Enterprises know that they must shift more of their processes to digital processes, a transition that often starts with paper. This 2021 Aragon Research Globe evaluates 21 major DTM providers.
Research Note Details
Topic: Digital transaction management
Issue: Who are the DTM providers and how are they evolving?
Research Note Number: 2021-04
Length: 38 pages
File Size: 4 MB
File Type: Portable Document Format (PDF)
Language: English
Publisher: Aragon Research
Authors: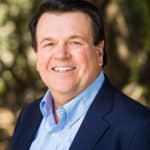 Jim Lundy, CEO of Aragon Research
Access Free Research In Our Guest Network
The Aragon Research Globe™ for Digital Work Hubs, 2021
The Aragon Research Technology Arc™ for Artificial Intelligence, 2020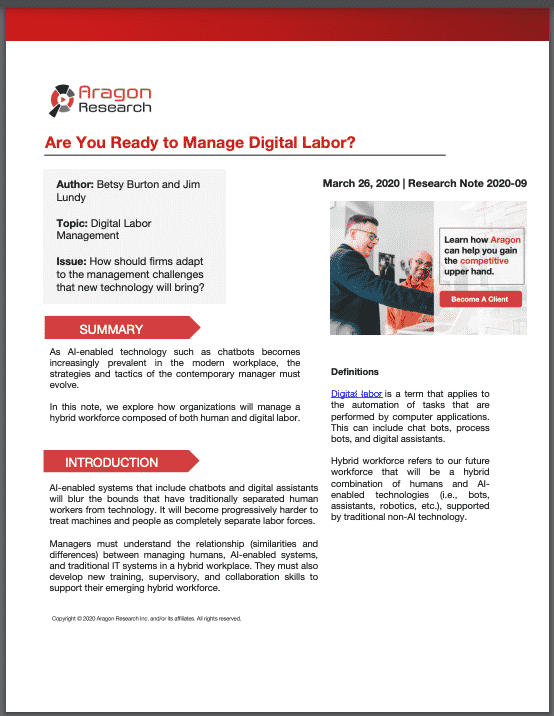 Are You Ready to Manage Digital Labor?