The Aragon Research Technology Arc™ for the Digital Workplace, 2021
Examine 40 technology profiles that are split between emerging, adopting, and mature arcs
Summary
Aragon Research introduces its 2021 Technology Arc for the Digital Workplace. This ninth edition features 40 technology profiles that are split between emerging, adopting, and mature arcs. The key focus for 2021 is on hybrid work, automation, intelligent collaboration, managing the proliferation of SaaS-based applications and preparing for the intelligent workplace.
Introduction
Hybrid work is now the standard for a majority of organizations with knowledge workers. The need to leverage the right technologies for the hybrid digital workplace becomes even more important now and in the future. Part of the challenge with the new remote work initiative is narrowing the number of applications that will be used. This ninth edition of the Aragon Research Technology Arc for the Digital Workplace will help you identify important technologies, choose which technologies to monitor, and evaluate and understand the potential benefits of each. Additionally, this report adds extra dimensions that will help you decide when, why, and how you should adopt these technologies.
The 2021 Technology Arcs feature emerging classes of applications that either extend or replace existing categories. The inclusion of emerging applications is based on enterprise needs and focused on specific tasks or processes with the goal of producing specific business outcomes. With the continued emergence of augmented reality and blockchain, we are seeing machine learning, specifically deep learning, emerge as an area that is enabling businesses to become automated. As machine learning in general, and deep learning in particular, mature to the point of becoming pervasive, the demand will grow.
As a result, we will see a different approach to building tools that support the digital workplace (i.e., the emergence of tools to automate the generation of machine learning models). These tools will enable people familiar with the business domain who lack data science experience to tackle problems that were previously out of their reach. The trend that is going to impact the digital workplace is the shift to intelligent applications that leverage data and AI to help to both automate processes as well as predict future states. AI is here to stay, and enterprises need to invest in providers that are innovating their platforms to take advantage of the fourth industrial revolution.
Research Note Details
Topic: The digital workplace
Issue: What are the macrotrends impacting the evolution of work? 
Research Note Number: 2021-29
Length: 28 pages
File Size: 1.6 MB
File Type: Portable Document Format (PDF)
Language: English
Publisher: Aragon Research
Authors: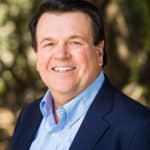 Jim Lundy, Founder and CEO
Access Free Research In Our Guest Network
The Aragon Research Globe™ for Digital Work Hubs, 2021
The Aragon Research Technology Arc™ for Artificial Intelligence, 2020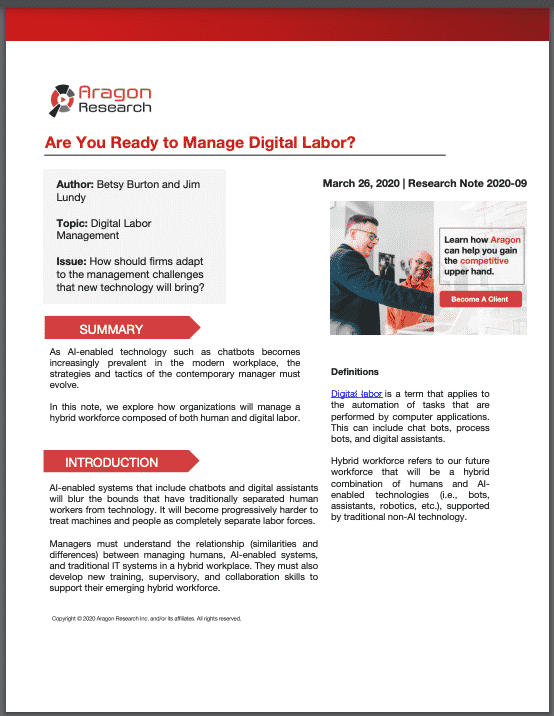 Are You Ready to Manage Digital Labor?