The Shift to People-Centric Transaction Management
Summary
As the digital transaction management market matures, it's shifting to more of a people-centric approach. Because of this, verifying who individuals are and ensuring the transactions they participate in are secure is table stakes. This shift represents a trend towards better digital identity and authentication as well as higher levels of security so that transactions are not left vulnerable to hacking.
Introduction
Digital transaction management (DTM) has become an essential part of conducting business. Enterprises that leverage DTM have reaped the benefits, thanks to cost savings from going paperless and a more frictionless customer experience. As the market continues to evolve and expand, it has taken on a more people-centric approach. In this Research Note, Aragon is defining the next phase of DTM, which we are calling people-centric transaction management. This is good news for enterprises because it means more DTM providers are focused on improving the customer experience. However, this expansion means a greater focus on identity assurance, authentication, and security is also needed.
Research Note Details
Topic: Digital Transaction Management
Issue: How will the digital transaction management market evolve?
How will security and privacy capabilities become more natively infused into enterprise software offerings?
Research Note Number: 2022-26
Length: 16 pages
File Size: 3 MB
File Type: Portable Document Format (PDF)
Language: English
Publisher: Aragon Research
Authors:
Jim Lundy, CEO and Lead Analyst
Access Free Research In Our Guest Network
The Aragon Research Globe™ for Digital Work Hubs, 2021
The Aragon Research Technology Arc™ for Artificial Intelligence, 2020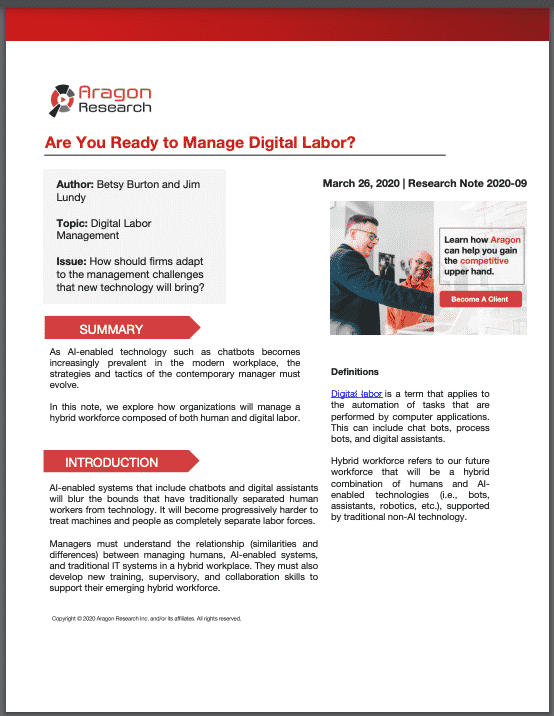 Are You Ready to Manage Digital Labor?