Three Emerging Use Cases in Computer Vision
Where in the market is computer vision making a difference?
Summary
Computer vision is emerging as a powerful tool for digital transformation across the enterprise. Still, it is unclear which industries are benefitting most from computer vision, and who stand to gain the most in the near future. This Research Note reviews three cases of early adoption for computer vision and discusses their implications for the market.
Introduction
Computer vision technology, powered by artificial intelligence (AI) to accurately identify and categorize visual content, is expanding into various markets at a rapid pace. Best known for its role in facial recognition and self-driving vehicles, computer vision is transforming a wide range of sectors from agriculture to insurance. In this Research Note, we list the top ten impactful computer vision use cases where computer vision is having an impact and go into more details on three of these use cases where computer vision impact is having a transformational impact. 
Research Note Details
Topic: Computer Vision
Issue: Where in the market is computer vision making a difference?
Research Note Number: 2021-60
Length: 9 pages
File Size: 1 MB
File Type: Portable Document Format (PDF)
Language: English
Publisher: Aragon Research
Authors:
Adam Pease, Associate Analyst and Editor
Access Free Research In Our Guest Network
The Aragon Research Globe™ for Digital Work Hubs, 2021
The Aragon Research Technology Arc™ for Artificial Intelligence, 2020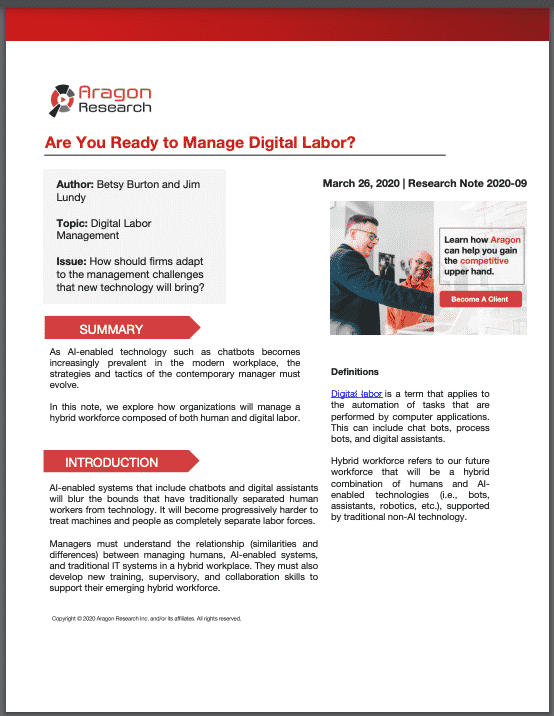 Are You Ready to Manage Digital Labor?