What Is Generative Content?
The Next Evolution of Workflow and Content Automation
Summary
What if the process of creating content could itself be automated? New systems are emerging that enable enterprises to generate digital assets, especially text, without relying on human content creators. This Research Note defines generative content and provides advice to business leaders for understanding this new technology category.
Introduction
Turning a business idea from a dream into a reality requires compelling digital content that can be used to tell a story. However, developing high quality and competitive digital content—images, text, and video—means enterprises must rely on worldwide teams of content creators to create the words and images that define their brand. When it wants to take an idea to market, a new startup will find that it needs not only web developers, but copywriters, designers, and more in an expensive and time-consuming hunt for talent. But what if it were possible to avoid all this?
Instead of hiring a team, tomorrow's executive may turn to an AI application, simply describe the website they have in mind, and watch as it is automatically generated across the screen. This future may be closer than we think. This Research Note defines generative content and positions it within the workflow and content automation (WCA) market.
Research Note Details
Topic: Artificial Intelligence
Issue: How should enterprise leaders understand generative content?
Research Note Number: 2022-09
Length: 8 pages
File Size: 1 MB
File Type: Portable Document Format (PDF)
Language: English
Publisher: Aragon Research
Authors:
Adam Pease, Associate Analyst and Editor
Access Free Research In Our Guest Network
The Aragon Research Globe™ for Digital Work Hubs, 2021
The Aragon Research Technology Arc™ for Artificial Intelligence, 2020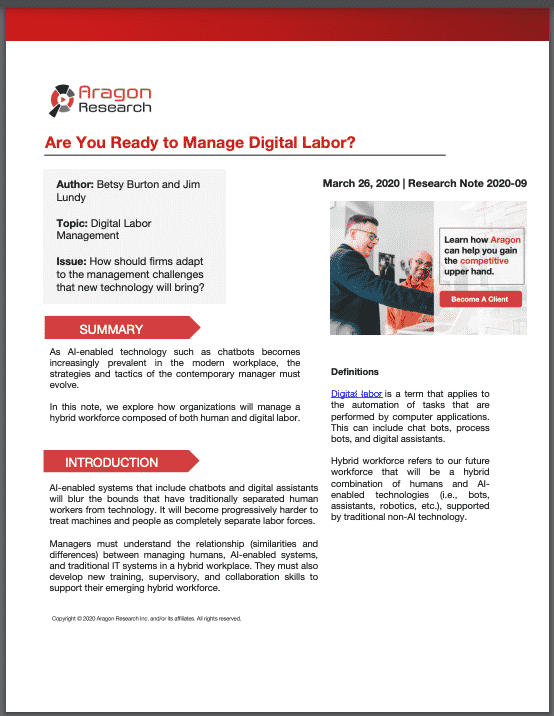 Are You Ready to Manage Digital Labor?