Best Practices For Managing Your Integrated Digital and Human Workforce
Learn best practices to put in place today in preparation for the increasing impact of digital labor
Summary
AI-enabled digital labor will increasingly be a significant part of any organization's workforce. Organizations must support all their human and digital labor using cohesive and integrated practices. Do not get caught by surprise, or unprepared. Put these best practices in place today for your hybrid work force in preparation for the increasing impact of digital labor.
Introduction
Aragon Research believes that the emergence of digital labor will have a profound impact on how organizations leverage, manage, and support their workforce into the future. Digital labor refers to the AI-enabled computer applications that are used to support automation of tasks that were formerly performed by humans. Digital labor may emerge as logical entities; embedded in software applications and systems (e.g., chatbots, digital assistants/advisors). Digital labor may also take a physical form as robotics (The Aragon Research Technology Arc™ for Digital Business).
Today, nearly all contact centers are staffed by humans, but bots are rising as they get better at handling specific repeatable use cases.
What makes digital labor distinct and differentiated from traditional business automation, is that it is at its core AIenabled. Unlike traditional software programs or robotics that are programmed to respond to human interaction, digital labor can learn based on models and algorithms how to respond to different interactions (human or digital) based on information collected from experiences (model-driven interactions) and analysis (information analytics).
Research Note Details
Topic: Digital business, digital labor
Issue: How will the emergence of Digital Labor change our workplace?
Research Note Number: 2021-03
Length: 8 pages
File Size: 700 KB
File Type: Portable Document Format (PDF)
Language: English
Publisher: Aragon Research
Authors:
Betsy Burton, VP Research at Aragon Research
Access Free Research In Our Guest Network
The Aragon Research Globe™ for Digital Work Hubs, 2021
The Aragon Research Technology Arc™ for Artificial Intelligence, 2020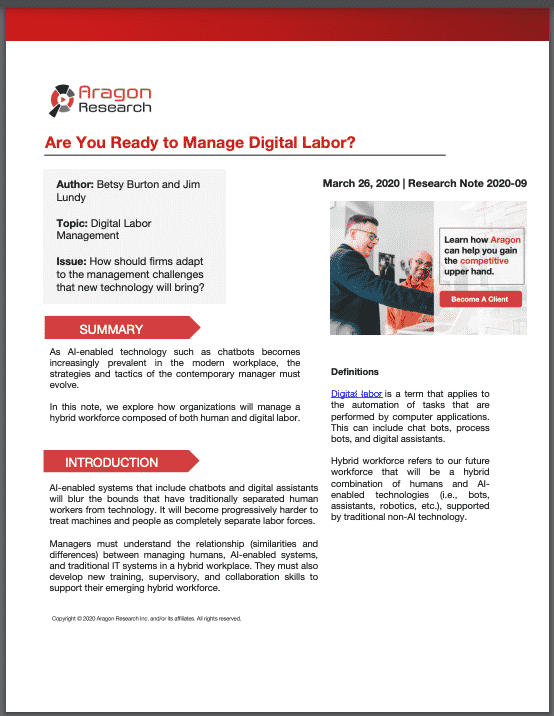 Are You Ready to Manage Digital Labor?