Collaboration: Evaluating Future Needs
The Next Evolution of Future Collaboration Products
Summary
Collaboration has largely focused on employee engagement as the primary need during the pandemic the concept of the hybrid workplace grew. However, examining the broader needs of must include other concepts to bring forth the productivity promise. These include worker performance, meeting management, and follow-on work technology components discussed.
Introduction
For years, collaboration tools were readily available but rarely used except in well equipped well-equipped conference rooms (e.g., Cisco Telepresence). Most comments that were heard at the time were about whether video really added to the conversation or not or whether those participating in meetings wanted video as part of their discussion. The normal office workplace was in widespread use and clearly the best method to conduct any collaborative effort. That despite the obvious travel cost savings.
The Pandemic made collaboration and the enablement of the remote workplace a necessity. And collaboration tools took off, often the one and only stocks in the market that rose while others fell dramatically with the economy. The goal of the collaboration was to facilitate employee engagement or y making the worker feel as close to an in-person experience as possible, and for the supervisor to be able to conduct work assignments and monitoring monitor employees as they would in the office.
Research Note Details
Topic: Collaboration
Issue: How should enterprise leaders understand the future of collaboration offerings?
Research Note Number: 2022-15
Length: 10 pages
File Size: 1.5 MB
File Type: Portable Document Format (PDF)
Language: English
Publisher: Aragon Research
Authors:
Ken Dulaney, VP of Research and Aragon Fellow
Access Free Research In Our Guest Network
The Aragon Research Globe™ for Digital Work Hubs, 2021
The Aragon Research Technology Arc™ for Artificial Intelligence, 2020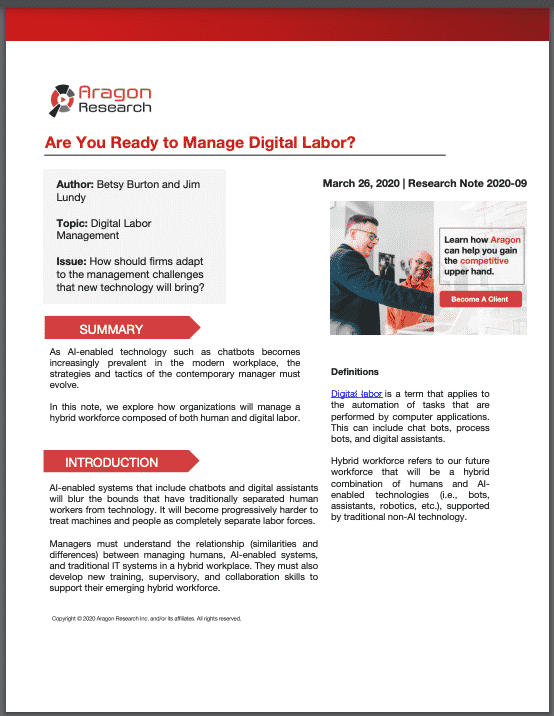 Are You Ready to Manage Digital Labor?