Five Trends in Digital Labor, 2023
Digital labor, using AI-based technology to both supplement and replace human labor, is on the rise.
Summary
Major advancements in artificial intelligence (AI) have provided the foundation for digital labor where enterprises benefit from both the augmentation of technology to various human performed tasks (e.g., driving) as well as potential human replacement, especially where chronic staff shortages exist. We offer several key trends.
Key Takeaways
Artificial intelligence will affect dramatic changes in labor and management talent pools, but have difficulty duplicating the unique human adaptability, which will balance investments in human capital and technology.

Digital labor, digital supervisors, and digital managers will all see significant uptake in the 2020s.
Research Note Details
Topic: Digital Labor
Issue: How will AI impact the introduction of technology into the direct support or replacement of human labor activities.
Research Note Number: 2023-16
Length: 10 pages
File Size: 0.5 MB
File Type: Portable Document Format (PDF)
Language: English
Publisher: Aragon Research
Author:
Ken Dulaney, VP of Research
Access Free Research In Our Guest Network
The Aragon Research Globe™ for Digital Work Hubs, 2021
The Aragon Research Technology Arc™ for Artificial Intelligence, 2020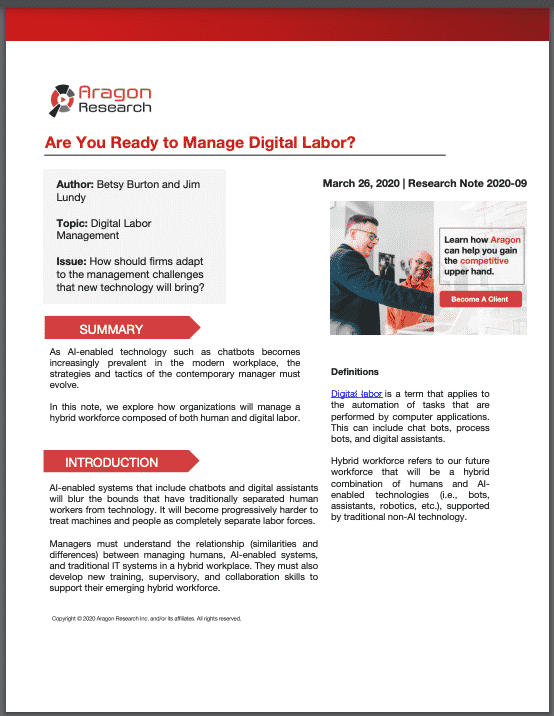 Are You Ready to Manage Digital Labor?