Presentation Toolkit: How to Define an Effective Governance Discipline
Understand the process of defining a governance discipline
Summary
This Aragon Research Toolkit Presentation is designed to help clients understand the process of defining a governance discipline. We will overview
how governance is changing in response to digital business, the key parts of governance, and its
implications for the enterprise.
Some key takeaways from our research include:
• Digital business requires integrating people, business processes, information, and things through effective governance.
• Organizations must define clear business outcome- driven metrics and measure those metrics to understand their business strategy.
• Modern organizations must include ethics in their definition of governance and take action to ensure they are integrating ethics into their decision-making.
Introduction
Governance is a critical discipline for managing the modern enterprise. Without effective governance discipline, organizations risk falling short of their business goals and finding themselves unprepared for the risks of the future. In this toolkit, we outline the definition of governance, present the Aragon Research Governance Framework, explore the way that governance is changing in response to digital business, and consider the implications of those changes for the modern enterprise.
Toolkit Note Details
Topic: Governance, Digital Business
Issue: How can organizations better understand and implement governance discipline?
Research Note Number: 2021-T08
Length: 4 pages
File Size: .25 MB
File Type: Portable Document Format (PDF)
Language: English
Publisher: Aragon Research
Authors:
Betsy Burton, VP of Research and Aragon Fellow
Access Free Research In Our Guest Network
The Aragon Research Globe™ for Digital Work Hubs, 2021
The Aragon Research Technology Arc™ for Artificial Intelligence, 2020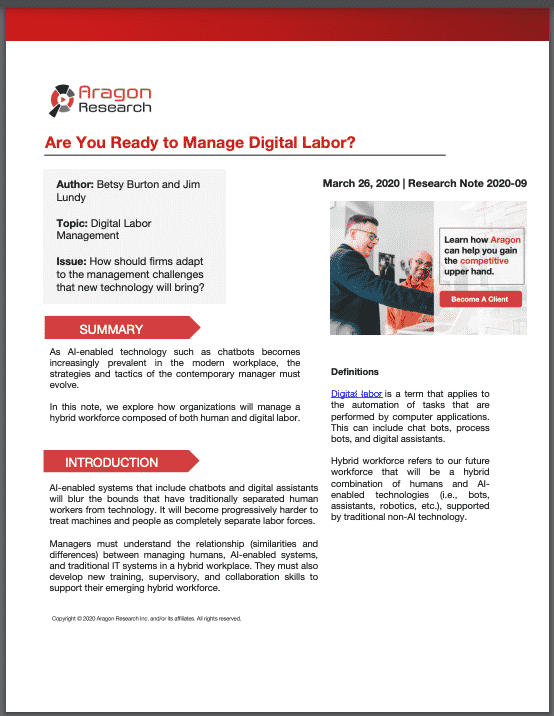 Are You Ready to Manage Digital Labor?