Introducing Aragon Research's Women in Tech Blog Series – Amplifying Voices, Inspiring Change
By Paula Quiroz
Introducing Aragon Research's Women in Technology Blog Series – Amplifying Voices, Inspiring Change
Traditionally, at the end of every year, Aragon Research highlights our past Women-In-Technology (WIT) winners in a 7 questions blog series. We're turning this around and expanding our series through the whole year!
This is the first in a series of monthly blogs centered around Women-In-Technology. 
Women In Technology at Aragon Research
In 2017, Aragon Research initiated its annual Women in Technology (WIT) awards program, aimed at acknowledging exemplary female technology professionals. Aragon's annual end-of-the-year WIT Awards ceremony celebrates the remarkable accomplishments of women who have showcased remarkable personal and professional development while making substantial contributions to the technology sector.
The Current State of Women-In-Technology
What proportion of the tech workforce consists of women today?
As indicated in The World Bank's report, women constitute less than one-third of the global tech workforce.
Aragon Research wants to bridge this divide. Join Aragon's September Transform Tour 2023 for an opportunity to gain insights into driving AI transformation, establishing a distinctive presence in a competitive market, and engaging in enlightening discussions. 
Our Women in Tech panel will discuss the present landscape for women in the technology industry. This event promises to equip you with knowledge, strategies, and perspectives to thrive in the ever-evolving tech world while addressing critical gender-related issues. Don't miss out on this enriching experience that combines innovation, differentiation, and diversity in tech.
>>View Our LIVE Women-In-Tech Guest Panel to Learn More About the Current State of WIT<<
Bridging the Gender Gap in Tech – Aragon Research's Women-In-Tech Community
Aragon hosts the Women in Technology (WIT) awards with a multifaceted purpose. First and foremost, it's a concerted effort to uplift other women in the technology industry, offering them support and a platform to shine. By doing so, we aim to ensure that women in tech never feel alone in their journeys, providing validation for their experiences and struggles. Additionally, these awards are a way for us to recognize and genuinely appreciate the remarkable accomplishments of women in the field, further fostering a sense of inclusivity and empowerment within the tech community.
The Future of  Aragon Research's WIT Blog Series! 
Get ready for our 2023 Women-In-Tech blog series! We're gearing up to bring you inspiring stories, thought-provoking discussions, and invaluable insights from trailblazers who are making a significant impact in the tech industry. 
Stay tuned as we delve into the experiences, challenges, and triumphs of female leaders who are shaping the future of technology. This series promises to be a source of inspiration and knowledge for all, highlighting the contributions and innovations of women in tech. 
Don't miss out on the chance to learn from those who are driving change and pushing boundaries in the tech world!
---
Keep Up with Our Latest Women-In-Technology Content!
---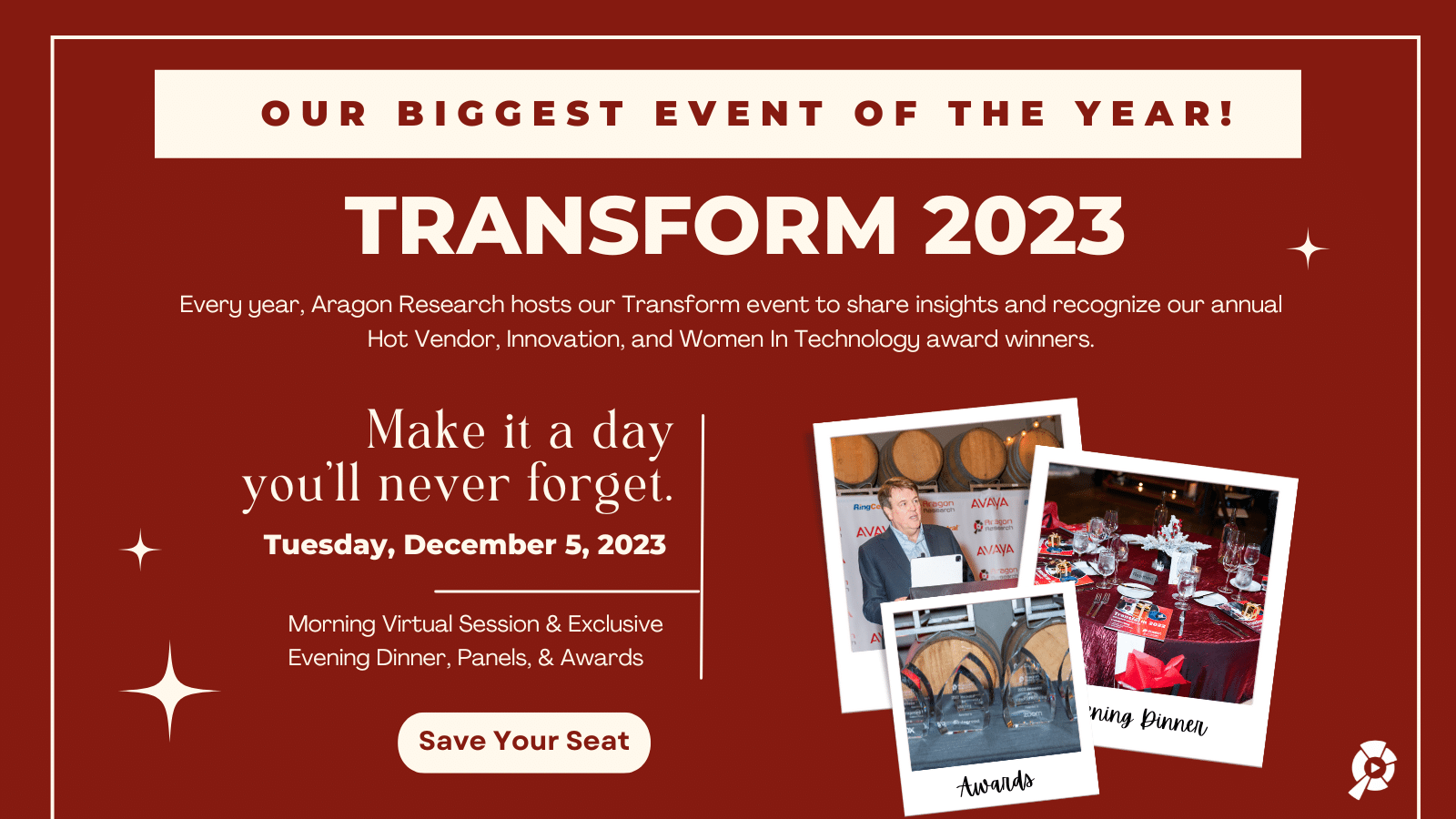 Our Hybrid Event of the Year: Transform 2023!
Our Transform 2023 event is filled with thought leadership from our expert analysts, esteemed guest panel members, and award-winning organizations.
This hybrid event kicks off with a morning of virtual sessions. To start, our analysts will share an insightful keynote presentation–which will include market predictions for 2024. We will then invite our executive guest panel to the virtual stage. Finally, our 2023 Hot Vendor award winners will be announced.
In the evening, we will host an invitation-only networking dinner. Guests will enjoy engaging conversation, dinner, a LIVE women-in-technology guest panel, and our 2023 Innovation and Women-In-Technology award ceremony.