Messaging Trends: Implications of Goldman Sachs and Banks Buying Perzo
By Jim Lundy
I recently saw a news report that several financial services firms, led by Goldman Sachs, are setting up to buy Perzo—an instant messaging and chat startup—as an alternative to the dominant Bloomberg messaging platform.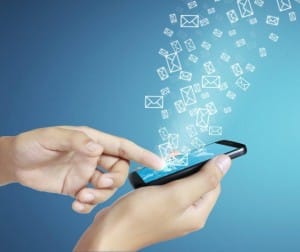 Although this has not been completely confirmed, the implications could greatly impact enterprise messaging and collaboration. Bloomberg's system (which also requires the purchase of a Bloomberg terminal) is proprietary, while Perzo is open-source and can be integrated into other systems and applications. The other competitor to Bloomberg is Reuters Messaging, which lists 200,000 users compared to 320,000 for Bloomberg.
Messaging Trends in Financial Services
This news also comes on the heels of another move  back in June of this year, when the CME Group was confirmed among investors in a series B $30 million funding round by Wickr. Wickr positions itself as a secure messaging application that allows users to send self-destructing messages, videos, and images. All messages are encrypted. Wickr's goal is to expand within the financial industry to be the messaging app for all financial transactions. This brings SnapChat, WhatsApp, and WeChat-like mobile messaging capabilities with encryption to the security-minded financial services industry.
Now Goldman had been looking for an alternative to Bloomberg for years. In this recent endeavor, it has induced other large financial institutions to come onboard. The going bylines have been about the cost of the Bloomberg system with the investment in terminals and how this move will potentially cut costs since Perzo applications are essentially free.
Also, there has been recent strain in the relationship between Goldman Sachs and Bloomberg after it was discovered  that Bloomberg news reporters had access to private data and information about bank professionals such as employee login data to their terminals. This has led to privacy concerns across the board with many institutions.
While all of these are serious drivers, there are other implications that arise to me. For one, a group of financial firms forming an alliance around messaging could be a disruptor to enterprise messaging vendors such as Microsoft in addition to Bloomberg and Reuters. It could also be a huge disruptor in identity and interoperability.
Let me explain.
Lack of Interoperability
One of the biggest roadblocks to external or cross-company collaboration is identity. Collaboration tools that support collaborative interactions have a long history of being proprietary islands unto themselves, which serves the financial interests of vendors but hampers enterprise management and interoperability.
These islands of collaboration have now become clouds, established by the same vendors. The result is an archipelago of vendor-owned collaboration islands that are not manageable or connectable. The limited interoperability options that exist are weak at best.
In such an environment, identity, policy, and presence are three core infrastructure services that do not interoperate well across vendor collaboration islands. These three problems have to be solved before collaborative interactions with external constituents can be managed and secure. While the vendors have done well to improve internal collaboration within their own technology platforms and portfolios, external collaboration is where the interoperability problem is most dire.
Messaging, Collaboration, and Identity
So, when considering this potential move in the financial services area, it could potentially be a big move in identity. I'm speculating here but the idea is having an established alliance of trusted, regulated, and neutral parties. Looking further, this alliance could potentially include along with banks, carriers, and other enterprise communications and collaboration providers such as Cisco and maybe even Google. Cloud identity players such as Okta could get involved.
Corporate identities are pretty solid—assuming they are legitimized by a governmental authority. For individuals, they should be legitimized, ideally, by a regulated authority like the banks. So, what would happen if financial institutions got together and offered a service which would allow individuals to "verify" their domain name and email address with their bank?
From an identity perspective, a service like this would allow an individual to register an email address (or even a domain name) with a bank, using their online banking system. That email would then be "registered" with the bank. In fact, that registration could be subject to periodic (automated) audits/verification electronically. The banks could run a verification service that would allow any individual to check whether an email/domain was registered with that service. It could work like a "ping" (DNS-like) where someone could "ping" an email address against that verification database before accepting it.
So, the implications of this possible move with Perzo could be an open messaging and collaboration service, and also a verification service to establish identity. For collaboration between corporate entities, it would be significantly important if one could explicitly trust the identity of potential collaborators whose identity is external to the enterprise or originating from another organization. Strategic and secure enterprise collaboration requires a trusted community and ecosystem.
To be fair, there have been other moves toward interoperability in the financial industry and in enterprise collaboration across the board. For example, in October of 2013, Markit and NextPlane partnered to offer a federation service for the financial industry called Markit Collaboration Services. It is powered by NextPlane's federation technology.
It allows communications modalities such as voice, video, IM, presence, and group chat along with others among the members of the service irrespective of the UCC platforms they use. There is a directory that validates the identity of contacts for secure messaging. Security and policy-based control is enabled in the service.
Mind you, this service is currently supported by Goldman Sachs, JP Morgan, and Thompson Reuters to name a few.
Final Thoughts
While there are clear implications here for enterprise messaging, trading exchanges, security, and identity, multiple separate moves within the industry still exacerbate the existing interoperability issue.
Couple this with the internal infrastructure investments in UCC platforms such as Lync and Cisco Jabber and the problem worsens. A service like NextPlane does go a long way in federating disparate UCC systems. However, having an equally strong ecosystem offering that is a trusted open alternative to compete with enterprise incumbents like Microsoft, could be a weapon for good in forcing interoperability.