Knowledge sharing is essential to getting work done. If people cannot find the right information they need, when they need it, productivity will suffer. In the digital workplace, knowledge sharing has been impacted by mobile workers and those working off premises who need to be able to find and share information no matter where they might be.
How can you make knowledge sharing easier in the digital workplace?
How do you capture valuable information from knowledge workers who are retiring or leaving the workplace?
Knowledge Management Research
The Aragon Research Technology Arc™ for Learning and Human Capital Management, 2018
April 9, 2018
Summary: The pressures to hire high-quality candidates are accelerating the need for smart learning and talent management platforms that can offer predictions and recommendations. Read More >
Hot Vendors in Talent Management, 2017
September 6, 2017
Summary: Digitalizing talent management and recruiting processes is essential to winning the war for talent. Aragon Research identifies three Hot Vendors in Talent Management. Read More >
Hot Vendors in Learning, 2017
September 6, 2017
Summary: Intuitive and efficient technologies keep employees actively learning and engaged throughout the onboarding process and beyond. This research note identifies four Hot Vendors in Learning who are making a difference in the market. Read More >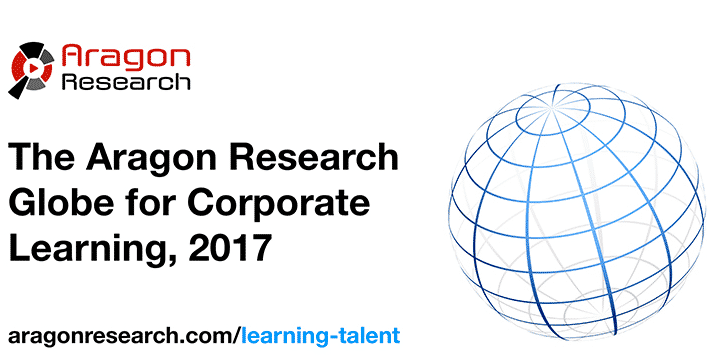 The Aragon Research Globe™ for Corporate Learning, 2017
May 19, 2017
Summary: Enterprises are seeking providers that provide a modern experience and that can deliver knowledge and just-in-time learning. This Research Globe examines 21 learning providers. Read More >
Knowledge Management Blogs
Pluralsight's IPO and the Impact on the Learning Market
May 21, 2018
The learning market is breaking out on its own, fueled by the demand for knowledge and for content that delivers. Offering more than just courses Pluralsight's analytics track team progress toward knowledge goals. Read More >
Salesforce myTrailhead Will Challenge Allego and MindTickle
December 19, 2017
Sales learning has long been bucketed under sales enablement, but with technology innovation in learning, Salesforce legitimized the sales learning category with its announcement of myTrailhead. Read More >
Give Your Business a Boost with Intelligence
April 11, 2018
This blog explores different contexts where intelligence can be applied. For example, persona-based digital workspaces can be leveraged to support knowledge assistants. Read More >
The Rise of Sales Learning—and Why It's Different Than Your Corporate LMS
December 11, 2017
Training is a vital activity in sales. Aragon has noticed a rise of software providers that offer modern learning tools and platforms for sales learning and development. Read More >