The Digital Workplace is about enabling productivity and allowing people to do great work. The workplace is evolving as the need for faster outcomes becomes more apparent and the overload of tools becomes an issue that needs to be resolved. Conversations we're having with clients include - developing a mobile first strategy, including mobile collaboration; tools for telework; developing a high performance workforce; and using work platforms to drive knowledge-sharing and productivity, among other challenge areas.
Who are the work platform providers and how are they evolving?
How can I measure the ROI of my Digital Workplace technology investments?
How can I foster productivity and easier knowledge sharing in the Digital Workplace?
Digital Workplace Research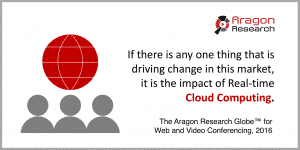 The Aragon Research Globe for Web And Video Conferencing, 2016: Video Powers The Digital Enterprise
December 15, 2016
Summary: The race to add more visual collaboration inside and outside of the enterprise is being driven by the need to work faster and compete in the global market. We overview 23 major providers meeting this demand in the market.
The ECM Journey to the Cloud: The Five Reasons You Should Act Now
December 6, 2016
Summary: The Content Management market is undergoing a significant shift as the need to leverage content in real-time for business processes becomes even more critical. This Research Note identifies the five key reasons enterprises should be migrating their ECM Systems to the Cloud.
The Aragon Research Technology Arc for The Digital Workplace, 2016
February 2, 2016
Summary: Workplace technologies have undergone tremendous convergence as they have become cloud and mobile enabled. The fourth edition of our Technology Arc for the Digital Workplace features 58 technology profiles.
Special Report: Optimize the Digital Workplace by Shifting to Work Platforms
November 1, 2016
Summary: The Digital Workplace is placing new demands on business users and managers. This Special Report contains carefully selected research that will help you become more familiar with Work Platforms, the providers offering them, and how you can get started.
6 Cybersecurity Best Practices You Need to Implement ASAP
January 16, 2016
The latest Gmail Phishing attack reveals we need to be doing more to protect our information. This blog outlines 6 cybersecurity best practices you can put into place right now to avoid being hacked.
New MacBook Pro 2016 with Touchbar – A Winner
December 29, 2016
There are lots of articles including one from Consumer Reports that are not recommending the newly redesigned MacBook Pro from Apple. Rest assured, after firing up the new unit, I can safely say that it is a very solid machine, well worth the purchase price.
The Future of Work is about Business Leaders
January 11, 2017
If we jump to the point of this blog, it's that Business Leaders are consistently making more and more of the decisions when it comes to work and the workplace. Business Leaders are realizing that technology can help them win the race to own customers.
Microsoft Teams is the New Slack Killer
November 14, 2016
Microsoft announced Microsoft Teams – based on Microsoft Office, not on Skype for Business. At first glance, Microsoft Teams might seem like a direct faceoff with Skype for Business, but it's really a Slack killer. This blog discusses some of the reasons why Teams is the new Slack Killer.