Collaboration is a primary business requirement for enterprises of all sizes. Organizations have to manage a rising extended workforce that consists of contractors, suppliers, and partners. We advise our clients on their enterprise collaboration strategy and on the technology decisions that will factor into making their strategy more effective.
What are the trends impacting collaboration and communications in the enterprise?
What are the UCC technologies and architectures that enterprises should leverage?
Who are the unified communication and collaboration providers and how will they evolve?
Free Research
Preview
The Future of Unified Communications and Collaboration is Mobile and Video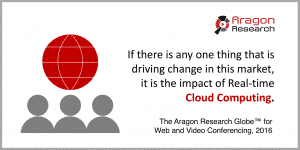 The Aragon Research Globe for Web And Video Conferencing, 2016: Video Powers The Digital Enterprise
December 15, 2016
Summary: The race to add more visual collaboration inside and outside of the enterprise is being driven by the need to work faster and compete in the global market. We overview 23 major providers meeting this demand in the market.
The Aragon Research Globe for Social Software, 2016
September 23, 2016
Summary: Enterprise Social Networks (ESNs), or Communities, as they're sometimes called, are shifting as workers are seeking new and easier ways of sharing knowledge. This Globe for Social Software evaluates 21 providers who each focus on the core problem of sharing knowledge and enabling productivity. 
The Future Of UCC And The Rise Of Platforms
October 28, 2016
Summary: The market for communications is shifting to one in which multi-modal interactions will become the norm. This Research Note identifies the new elements of UCC and why UCC Platforms are emerging as a way to integrate UCC features into business applications.
Hot Vendors in Social Collaboration and Work, 2016
August 3, 2016
Summary: Work platforms are now in high demand, because they offer a solution to this problem of application-overload and inhibitive context switching. The four Hot Vendors in Social Collaboration and Work are helping enterprises get work done by integrating multiple workplace tools into one offering.
Polycom's New CEO and Product Arsenal Promise Digital Success
October 25, 2016
Polycom has been in the midst of a product makeover. This blog is about the changes at Polycom, including bringing a new CEO on board, and the opportunity the company has in the Digital Era.
GuideSpark: The Video Platform You Haven't Met Yet
July 7, 2016
GuideSpark is known for Employee Communications and Engagement via its cool videos that often show up during employee on-boarding or during benefits selection season. This blog talks about GuideSpark and its role in Enterprise Video.
Microsoft Touts Azure, Skype, and SharePoint at Annual Ignite Conference
October 11, 2016
Microsoft is all in with Cloud Computing and that was never more evident than at its annual Ignite Conference that was held in Atlanta. This blog recaps some of the key things we observed at Ignite.
UC is Dead – UCC is the Future
March 7, 2016
With mobile, cloud and enhanced web technologies such as WebRTC, solutions have changed.This blog is about UCC as the new way forward and the need to focus on a wholistic approach to real-time collaboration.