Competition to attract and retain talent in competitive markets is intense and increasing.
In a recent survey of over 3,300 HR professionals, 68% reported difficulty recruiting qualified candidates; 39% reported that offering more flexible work arrangements is their most effective recruiting strategy; and 34% reported that expanding the geographic search region is part of their strategy.1
HR leaders need talent management solutions that provide support for the changing needs of the digital workplace, including managing their globally mobile workforce, getting deeper insights into the hiring and recruiting process, and engaging and motivating employees throughout their career.
1. The New Talent Landscape: Recruiting Difficulty and Skills Shortages, Society for Human Resource Management, 2016.
Free Infographic
HR and learning professionals feel competitive pressures to recruit and maintain talent. Learn more about seven technologies that are changing the talent management game by downloading your free infographic.
Talent Management Research
The Aragon Research Technology Arc™ for Learning and Human Capital Management, 2018
April 9, 2018
Summary: When it comes to managing people, enterprises are realizing that they need deeper analytics about behaviors, sentiment, and how people work. Read More >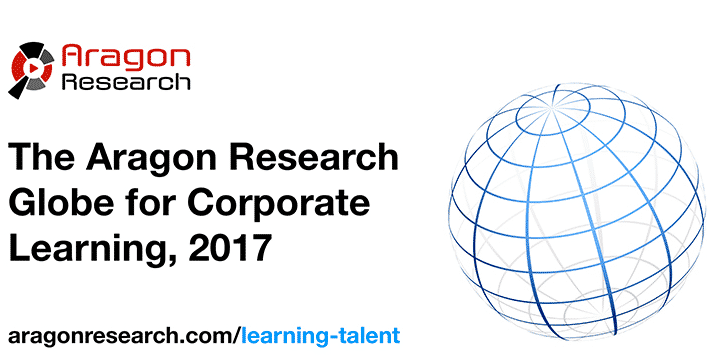 The Aragon Research Globe™ for Corporate Learning, 2017
May 19, 2017
Summary: Enterprises are seeking providers that provide a modern experience and that can deliver knowledge and just-in-time learning. This research note examines 21 learning providers. Read More >
Hot Vendors in Talent Management, 2017
September 6, 2017
Summary: Digitalizing talent management and recruiting processes is essential to winning the war for talent. Aragon identifies three Hot Vendors in Talent Management. Read More >
Special Report: Global Mobility Management Will Disrupt Traditional Workforce Management
April 11, 2017
Summary: Aragon Research introduces a new type of business app that manages the complete set of processes to manage the movement of employees. Read More >
The Learning and Talent Firm You've Never Heard of
May 8, 2018
Formed in 2013, LTG is listed on the London Stock Exchange. Its mission is to consolidate the learning and talent management markets and it is on a fast track to accomplish that. Read More >
Have You Hired a Recruiting Chatbot?
March 27, 2018
HR professionals are taking more responsibility for ensuring hiring success in a competitive world, which means new tools are emerging. One of these tools is what we refer to as a recruiting chatbot. Read More >
Give Your Business a Boost with Intelligence
April 11, 2018
Organizations that leverage intelligence will have a competitive advantage over those that don't. This blog explores different contexts where intelligence can be applied to business scenarios. Read More >
Invest in Your People to Invest in Digital Transformation
November 14, 2017
Digital transformation is a team sport. Your organization cannot digitally transform until your people have built and strengthened their digital competencies and skills. Read More >