High employee engagement is linked to increased employee satisfaction, revenue and overall customer success. This is why it's critical employees have access to the tools and resources they need to do their jobs. The challenge facing business leaders today is how to make learning and training a continuous part of work versus doing it sporadically.
We help our clients develop their Corporate Learning strategy, and evaluate the technology providers that will allow them to manage and deliver all forms of learning.
Business leaders are also seeking more robust analytics that show the impact of learning on business performance. Increasingly, enterprises are moving away from learning management systems in favor of modern learning platforms. Learning platforms will power innovation and allow enterprises to do more with their investments in a shorter amount of time.
Discover the technologies that are disrupting the Corporate Learning industry by downloading your free infographic.
Free Infographic
HR and learning professionals feel competitive pressures to recruit and maintain talent. Learn more about seven technologies that are changing the learning game by downloading your free infographic.
Corporate Learning Research
The Aragon Research Globe™ for Corporate Learning, 2018
June 21, 2018
Summary: Learning should be a continuous part of work versus a sporadic engagement. Modern learning enables enterprises to deliver just-in-time learning and all forms of learning content. Read More >
Hot Vendors™ in Learning, 2017
September 6, 2017
Summary: Intuitive and efficient technologies keep employees actively learning and engaged throughout the onboarding processes and beyond. This research note identifies four Hot Vendors in Learning. Read More >
The Aragon Research Technology Arc™ for Learning and Human Capital Management, 2018
April 9, 2018
Summary: This research note features 44 technology profiles that are split between the emerging, adopting, and mature arcs. Read More >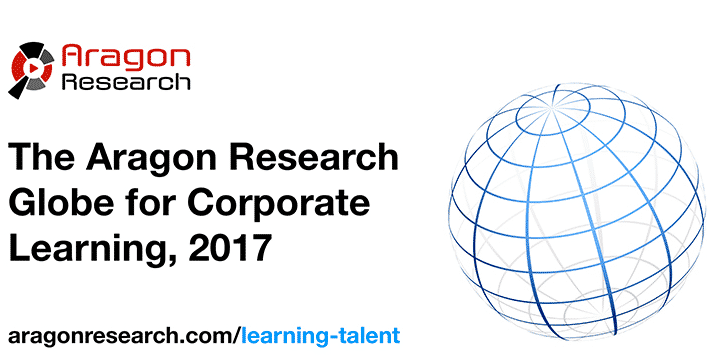 The Aragon Research Globe for Corporate Learning, 2017
May 19, 2017
Summary: Enterprises are seeking providers that provide a modern experience and that can deliver knowledge and just-in-time learning. This research note examines 21 learning providers. Read More >
Corporate Learning: Three Success Factors You Need to Know About
May 23, 2018
This blog overviews the comeback of corporate learning and the technologies that are driving the market's innovation: microlearning, video learning, collaboration, and analytics. Read More >
The Learning and Talent Firm You've Never Heard of
May 8, 2018
LTG announced its intent to purchase PeopleFluent for U.S. $150 million. This will provide LTG with a modern video and social learning offering, along with a complete talent suite. Read More >
Pluralsight's IPO and the Impact on the Learning Market
May 21, 2018
Pluralsight is more than just a collection of learning content; it also provides strong analytics to help managers understand the progress a team is making toward their knowledge goals. This blog discusses the fast-growing company and the evolving market. Read More >
Give Your Business a Boost with Intelligence
April 11, 2018
Organizations that leverage intelligence will have a competitive advantage over those that don't. This blog explores different contexts where intelligence can be applied to business scenarios. Read More >